*This post may contain affiliate links, which means I may receive a small commission, at no cost to you, if you make a purchase through a link!*
It's already December 15th! This month has flown by and I'm wayyyy behind on Christmas stuff this year and then realized I haven't done any neighbor gifts yet. Well, these wood slice ornaments are cute, rustic, and cheap to make! Paired with some delicious Peanut Butter Gems or Layered Christmas Toffee, you'll have a quick and cost-effective Christmas gift for your neighbors and coworkers! I'll be honest with y'all… I haven't gotten out my Christmas tree this year. I don't know that I actually will, but here's a fun Wood Slice Ornament Tutorial anyway! (It just may not make it onto my Christmas tree till next year.)
Wood Slice Ornament Tutorial
You will need:
Design (I used one from this FREE set)
Permanente Adhesive Vinyl (cut into your desired design)
Drill (I used my drill press, but you can use any drill)
1/8″ Drill Bit
Wood Slices (buy them or cut your own)
Paint
Sponge Brush
Transfer Tape
Clear Coat (spray)
Ribbon and/or Twine
1 | Measure Your Wood Slices
Measure the size of the wood slices you are going to be using so that you can make your design just a touch smaller to fit. My wood slices were approximately 2.75″ in diameter, so my design is about 2″ in diameter. Depending upon the size of your wood slices, the size of the design will vary a bit. (These slices are Cherry)
2 | Pick and Cut a Design
Find a design you like or make your own. I was in a hurry, so I used one of the designs from this cute (and FREE) bundle! Note that I did add some little stars to the design. Thicken up your lines a bit if you need to. Using a Silhouette or Cricut cut out your design on Permanent Vinyl. Cut and weed away! Add your transfer tape.
3 | Paint the Wood Slices
You can use any color you want, but I suggest something that will stand out from the wood's color. I chose red for this particular project. Start by painting an outline around the interior of the circle. Your lines don't have to be perfect since the edges of the slice are uneven and it's supposed to look rustic remember!
Fill in the circle and let it dry. Remember that your painting doesn't have to be perfect to turn out adorable!
4 | Add the Vinyl
Once the transfer tape was on the design, I carefully peeled off the backing. I just eyeballed where I wanted my design, but you can be more precise about it if you want. (I was just trying to get like 25 of these done really quick and I'm fairly good at just estimating where to place the design.)
5 | Drill
I used a drill press and a 1/8″ drill bit for these ornaments. You can also drill them with a power drill or just skip this step and hot glue the twine to the back later. Just make sure that if you drill them, leave enough space from the bark so that it won't break through the edge. I suggest using at least 1/8″, but it will vary depending on what type of wood you are using. If you are having trouble knowing where to drill, make sure to keep the drilled hole within the solid part of the wood and avoid the bark and spongy-looking layer.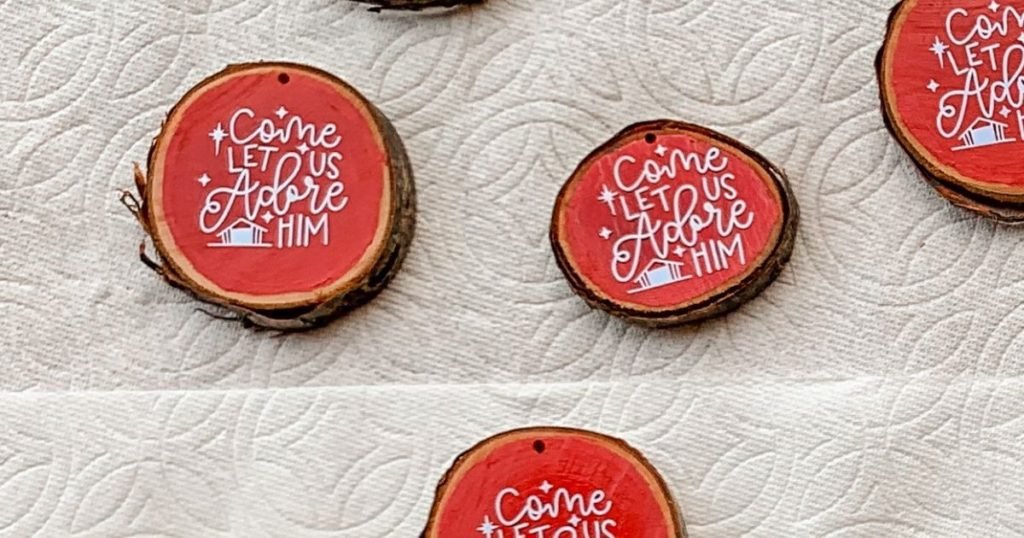 6 | Clear Coat
Layout the wood slice ornaments face up on some paper towels, newspaper, or, you know, whatever protects the surface below.
Spray the wood slices generously with the clear coat. I just used what I had on hand (Krylon ColorMaster in Satin Crystal Clear), but you can pick any brand and finish you want. Let them dry for about 20 minutes, then flip them over. Spray the backside of the wood slices generously then let them dry.
7 | Twine
Cut your twine (or ribbon if you prefer) into about 8-10″ pieces. Thread them through the drilled hole and tie the ends together in a knot.
8 | Bow (Optional)
I decided to add a ribbon bow to the top of the ornaments. This is just a 1/4″ ribbon and it's tied in a bow around the base of the twine.
9 | Done!
Now you are done! It's time to decorate… or in my case, distribute! Now you have super cute custom ornaments that are totally affordable to make!
If you enjoyed this Wood Slice Ornament Tutorial please share! As always, I'm happy to help you out if you have any questions, comments, or concerns! Just leave a message below!
You can find more Craft Projects here!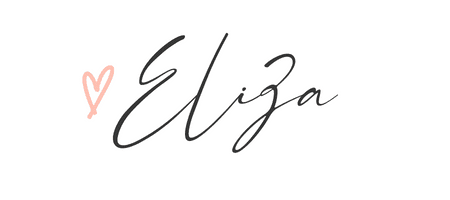 [mailpoet_form id="5″]