*This post may contain affiliate links, which means I may receive a small commission, at no cost to you, if you make a purchase through a link!*
With so many of my friends and family members welcoming new little bundles of joy into their lives, I've been making a TON of DIY burp rags lately. Whether you call them burp rags or burp cloths, they are a super easy baby gift, cheap to make, and something that will actually get used. And the best part? They are totally unique!
I get so many questions about how I make these awesome burp rags. They are soft, simple, and cheap to make. I typically buy a TON of flannel at Joann's whenever they have their $2.49/ yard flannel sales!
One of the best things about these DIY burp rags is that it doesn't have to be exact! They turn out cute whether you have everything exact or if you just eyeball it.
What you will need for your DIY Burp Rags:
1/2 yard Flannel Fabric* (makes 2 burp rags)
Serving Platter
Scissors
Crochet Hook (will vary slightly depending on the yarn used)
Plush Yarn (I like the Bernat Pipsqueak Yarn for this project)
Rotary Cutter (optional)
Cutting Mat (optional)
Perforated Rotary Cutting Blade (optional)
*You don't have to use flannel, but I do recommend it. When picking your fabric for this project, you will want to pick something that will be soft for a baby and won't let the spit up seep through quickly. My favorite places to get flannel fabric are Hobby Lobby and Joann.
The Fabrics I used for this project are Super Snuggle Flannel Fabric Fairy Princess, Nursery Flannel Fabric Sketched Elephants, Nursery Flannel Fabric Bunny and Rose, and Nursery Flannel Fabric Coral Buffalo Check.
1 | Iron the Fabric
I know I don't always iron my fabric *gasps*. I know that statement will make a lot of you cringe, but with this type of project, it isn't always necessary though I do recommend ironing your fabric so that everything is lined up correctly. Sometimes the fabric I get is pretty flat and lined up to start with, so I just skip this step but use your best judgment.
2 | Cut the Burp Rags
It's easiest to cut these out assembly-line style. I often cut 30+ burp rags at a time. This saves so much time and you just get into a good rhythm that gets everything done quickly.
Cut off the Selvage Edges
Most of the flannel fabric you buy will be 42″ meaning that it is 42″ wide plus the selvage edges (manufacture edges.) I fold my fabric in half with the selvage edges together, measure 21″ from the fold, and cut there.
Cut the fabric to Size
So, you will end up with a piece of fabric that is 1/2 yard high and 42″ (21″ folded) wide.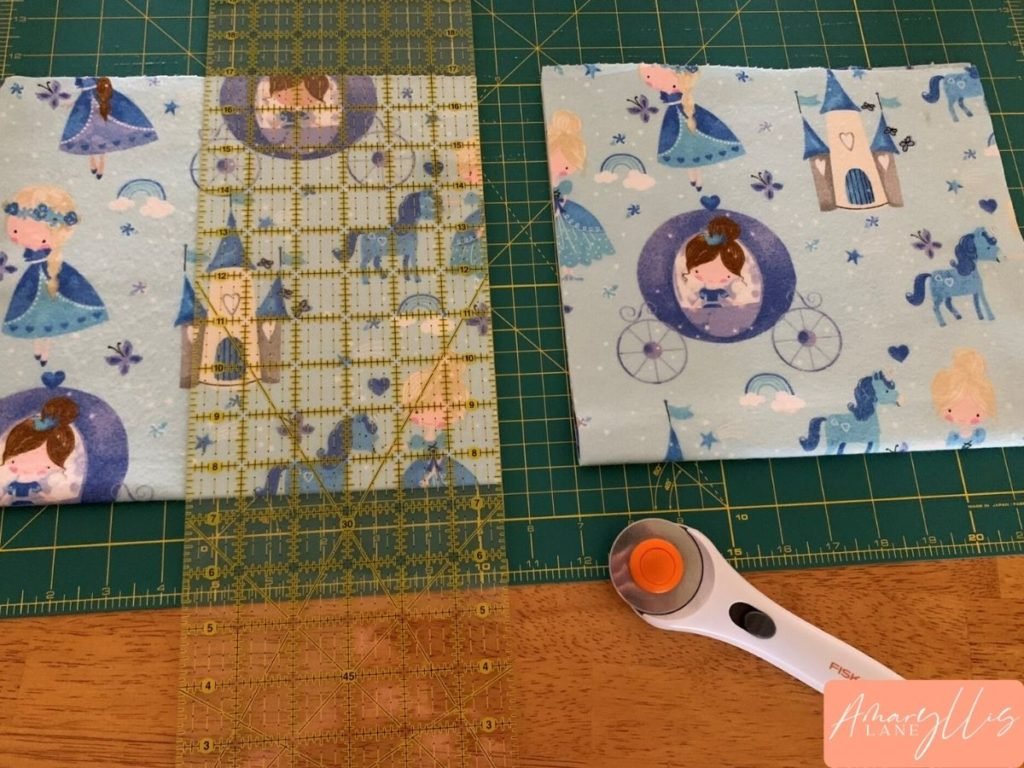 From here you are going to cut the fabric into 10 1/2″ columns so the burp rags are going to be 1/2 yard tall and 10 1/2″ wide. You will end up with 2 burp rags (4 pieces, 2 front, 2 back.) Note: I folded my fabric in half vertically in the pic below so that I could cut the whole vertical cut in one go because my cutting mat is kinda small.
Cut the Corners
Ok, so this is my great-grandmother's shortcut to rounding the edges. It's quick and gives you a hard edge to cut around instead of trying not to cut a paper pattern with your fabric rotary cutter. (Accidentally cutting the paper with your fabric scissors or cutter will dull the blade.)
You just lay the platter or plate face down on the fabric and line it up to the edges. Note that these don't have to be perfect. You won't be able to see the edges of the fabric once we are done. The finished dimensions are approximately 10 1/2″ by 18″.
Cut the edge and repeat for your remaining corners.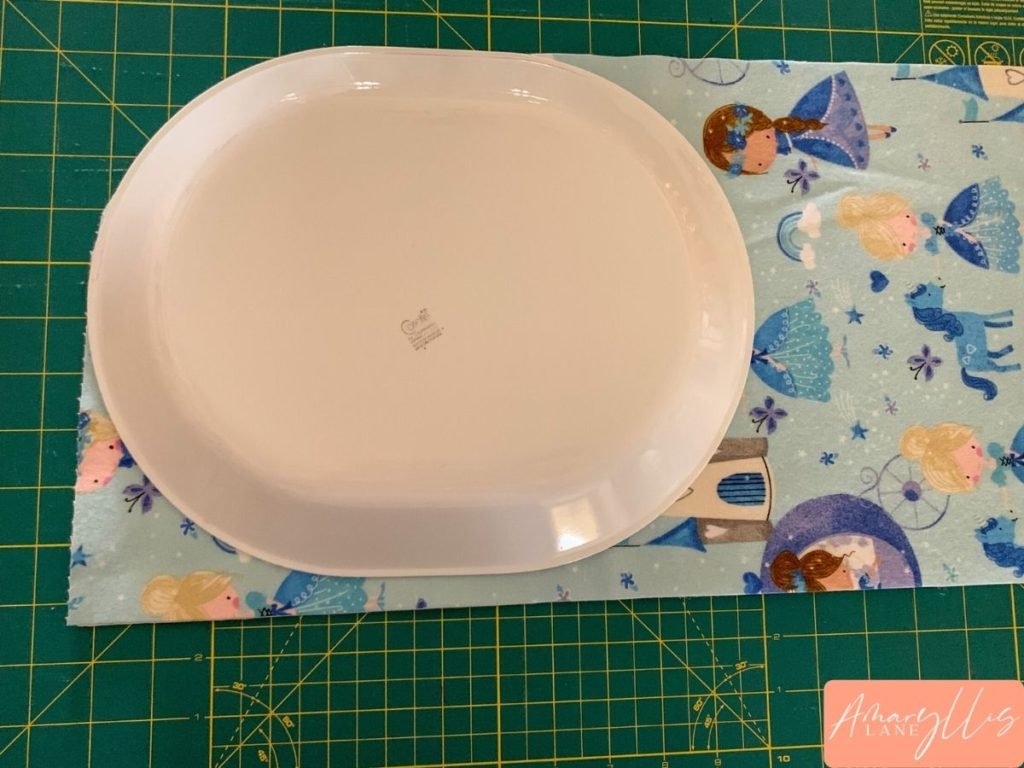 You will end up with something that looks like this:
3 | Make the Cuts for the Edging
This is where that perforated rotary blade comes in handy! If you don't have one of these, you can use an Exacto knife to cut small slits so that we have a place to attach the yarn.
Make sure that you have your front and back fabric lined up with the right sides facing out. Run your perforated rotary cutter around your fabric about a 1/4″ from the edge. If you cut too close to the edge, you may end up with it tearing, so take it slowly. Just be aware that this blade loosens easily due to the blade's tendency to wiggle. Make sure that the center bolt of the rotary cutter is tightened down (but not too tight) before using it. I've had the bolt on the cutter come undone and the blade flew off… Yikes!
*If you are using an Exacto knife, make 1/8″ slits 1/4″ parallel to the edge of the fabric.
**You can also use a blanket stitch around the edge instead of cutting the fabric. Just know this method does take longer to do and you actually have to sew. Typically when I use this method, I flip it inside out, sew a 1/4″ seam, turn it right side out, then blanket stitch. This just gives a cleaner edge if you aren't going to hide it under a fluffy yarn.
4 | Crochet the Edges
You can use any yarn you want, but I've found the Bernat Pipsqueak Yarn to work the best for this project and highly recommend it. It gives a plush, soft edging for the baby and also looks pretty. I've made burp rags this way for many years and I have constant requests for this yarn on the edging because the babies LOVE it!!! I would recommend using a fluffy yarn so that it hides the raw edges, otherwise, I sew an inside hem first so I have a clean edge.
If you are unfamiliar with crochet or need more help learning the single crochet, Annie's Catalog has a great tutorial here.
Start by making your end loop. (You can use a magic loop to start or just tie a loop around the hook as it won't matter in this project.)
With the loop around your crochet hook, insert the hook into one of the perforated cuts around the edge. (I usually start on one of the long sides.)
Yarn over and pull it back through the fabric.
Wrap the yarn over and pull back through the remaining loops.
Repeat in each hole around the fabric.
Tie off and weave in your ends.
End Product
This is how your DIY burp rags should turn out!
You can fancy up the edges with a crocheted lace using a blanket stitch or sew the edges on a sewing machine instead.
---
Enjoy!!!!
If you have any comments, questions, concerns, or just want to show off your project, add a comment below! For more fun DIY projects check out this page here.